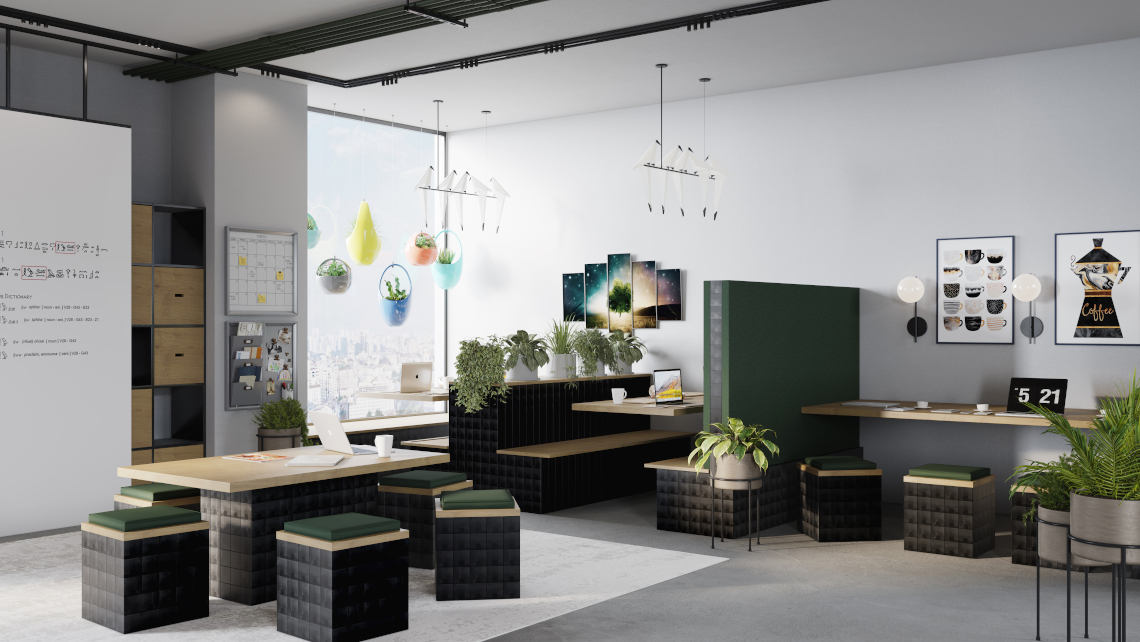 We're making our Clerkenwell Design Week debut with Morph® this month!
We will be showcasing a number of products and finishes in Project (stand PA5) and look forward to giving visitors an insight into Morph and its numerous applications.
Morph Meetz
Morph Meetz creates private meeting bays for two or more depending on your size specifications and the need for open or closed units for increased privacy and noise reduction.
We supply a choice of finishes including standard size and bespoke cushions as well as a variety of wall finishes to fit your style and brand. Table tops can be in a selection of finishes from reclaimed wood, and recycled plastic to more traditional MFC, veneer or ply.
Professional presentations and online meetings can be enhanced by fixing a monitor screen to Meetz walls.
G-Morph family
Stax and Tierz are from the G-Morph family, an offshoot of the core Morph® brick, which consists of Giant Morph blocks for fast reconfiguration and flexible layouts.
Morph Tierz uses G-Morph to build tier seating or stages, giving the flexibility and adaptability that today's commercial environments need.
Morph Stax uses G-Morph to build funky breakout, meeting and waiting area layouts.
Different surface finishes are available for the top cap and either fixed or non slip cushions can accessorise the range to improve comfort whilst maintaining flexibility.
Midi-Morph
Freestanding Morph Walls provide no mess and minimal to no disruption to the fabric of buildings. Our latest concept Midi-Morph provides a fast build solution to building triple layer Morph Walls with increased stability and smooth lines. Walls can be left in the timeless black finish or modified with panels and other finishes to enhance acoustic properties and designs.
Finishes to reflect styles and brand
We continue to expand our finish choices and we are now able to offer both hanging and fixed wall treatments including hanging acoustic panels, whiteboards and green walls and a growing number of fixed finishes including Linoleum (bespoke printed and standard), Vinyl floor of all types ie Amtico, Acoustic panels, self adhesive or other types such as Autex Composition, Decals, Magnetic whiteboard finishes, Cork tiles, Biophilic walls.
Table and seating tops are available in a selection of finishes from reclaimed wood, and recycled plastic to more traditional MFC, veneer or ply.
We will have a selection of these finishes on show at Clerkenwell.
Come and visit us in Project (PA5) 
See first hand the incredible flexibility Morph can offer for all your projects with the added benefit of reducing carbon footprints and meeting sustainability measures.