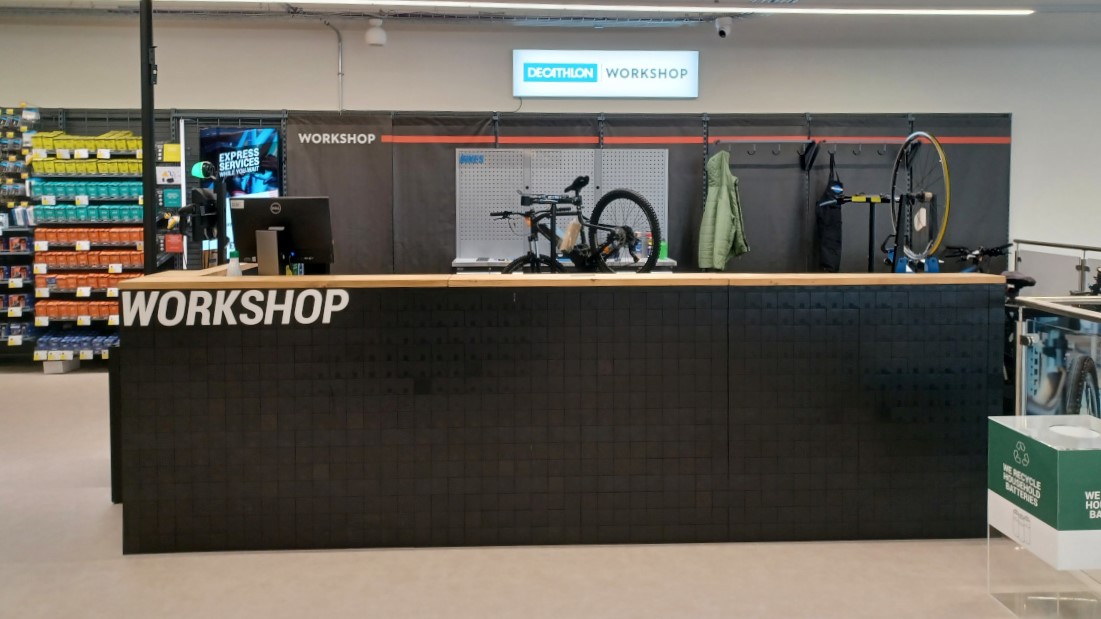 Counters for Decathlon York
We are delighted to be working with Decathlon, a family-owned international sports retail company with strong values for slowing climate change.

The new Decathlon store in York (UK) will open in October and we have installed two Morph counters. Decathlon were enthusiastic about the flexibility of the Morph system for bespoke builds as well as our environmental credentials which suited their ambitions for store development.

The first counter serves the bike maintenance area, providing high quality bike maintenance and repair services to help customers enjoy their bikes for longer. A large product, the counter is 4m x 3m with shelving, work surface tops and counter tops. The second counter was a smaller screening counter for their Racket Stringing service area.

The work surfaces chosen were the reclaimed scaffold board tops finished with 2 coats of Matt varnish. They make a great contrast with the Morph blocks and are available on a quick lead time with obvious environmental advantages.

The majority of the counter design have a single thickness structure with double thickness supports at strategic positions to reduce flex and increase strength.

The build of the main counter was completed in 3 hours 20 minutes and the smaller counter in around an hour. Watch our time lapse video (below) of the main counter build to see how simple it is to construct on site.

A great project to work on and fantastic to be working with Decathlon and contributing to their sustainable approach. 
We hope their customers like the counters!