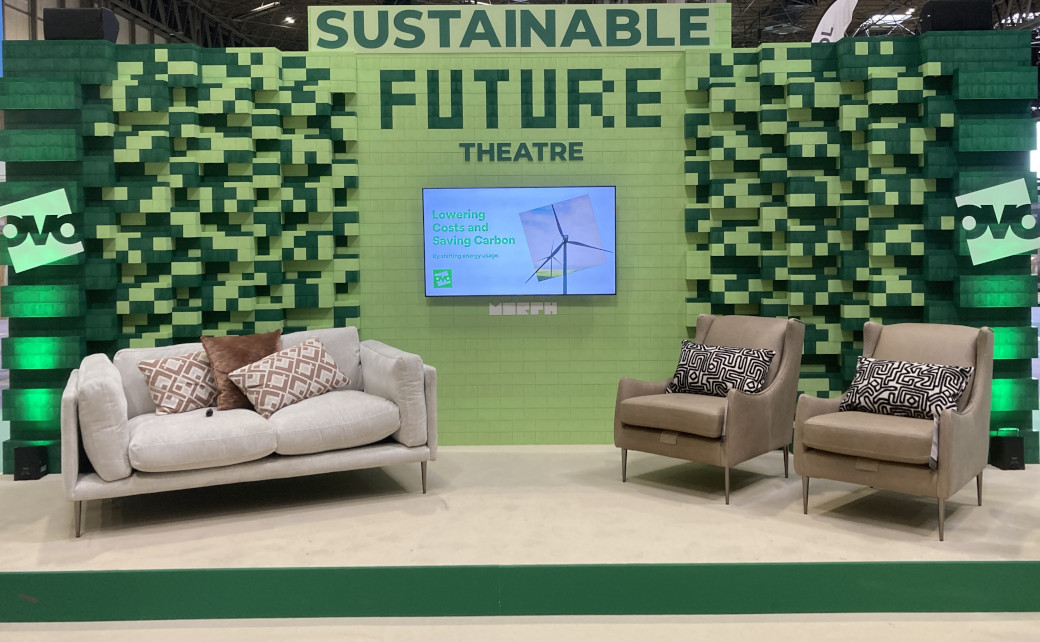 Grand Designs Live 2023
Morph Bricks was delighted to partner with Grand Designs Live at the NEC in October 2023, creating the Sustainable Future Theatre and Kevin's Green Heroes.
The team at Grand Designs Live first came across Morph at our stand in the Projects tent at Clerkenwell Design Week in May 2022. We were excited to be launching our first bricks in colour and the team were really impressed by the versatility of the product, its strength and most importantly the sustainable qualities.
The following month it was full steam ahead. The team at GDL were really keen to use Morph in all sorts of areas of the show, we were delighted!
Morph's adaptability meant there were multiple opportunities for its use across the show
Grand Design's Ellie Russell used her creative eye to identify a number of opportunities for using Morph including the Green Living Live part of the show dedicated to showcasing eco-friendly products and services from companies that put sustainability at the heart of their business. A perfect match for Morph Bricks.
After considering more than five different areas, all of which could be created using Morph, from the Champagne Bar to various seating optoins, free standing rooms and the 'Ask the Expert' structure, we settled on the Sustainable Future Theatre and Kevin's Green Heroes. Unquestionably the most important areas for opening discussions about and finding sustainable solutions.
The areas built using Morph are exemplars of the Green Living Live show
The purpose and function of these two areas are closely aligned with our company values and the final designs showcased the multiple ways Morph can be used to build different schemes and products.
Using our latest eco product Morph Bio, made from Bio composite material and also our original Morph RE, made from 100% recycled plastic, we were able to create stunning designs and promote the use of sustainable materials.
In Morph Bio, biocomposites capture and store carbon in the bioplastic and wood fibres of the material, helping reduce carbon footprints. Morph RE takes disused car dashboards and similar plastic items out of landfill sites, reducing the longterm implications that come with plastic waste.
Sustainable Future Theatre
The tailored design for the Sustainable Future Theatre created a stunning 6m wide by 2.5m tall backdrop to the Theatre. Using Apple Green and Leaf Green Bio bricks, the structure incorporates a flat central wall with integrated signwriting. The wall extends out either side in a bespoke staggered pattern giving depth and the sense of a curved wall. The bricks were delivered in easy to handle boxes and the multidimensional design was easily built onsite by one workman, without tools or mess.
Morph RE was used to create two freestanding signage stands for the Theatre, each had inbuilt stability and framed the printed programme glued to the stands.
Our CEO Harvey Banner joined a panel of experts on the Sustainable Future Theatre, including Max McMurdo (panel host), Dave Miller (Cleaner Seas), HiiGuru, Aileen McCreadie (Ikea), Medina Grillo to discuss 'Sustainable Interior Design: For the renter'. Easy to deliver, simple to build, adaptable and sustainable, Morph creates many affordable opportunities for the renter. 
Kevin's Green Heroes
Kevin McCloud's Green Heroes celebrate the best conceptual and eco-friendly construction ideas from small-scale start-ups to big businesses setting a green example for the rest of the industry. Kevin McCloud is personally involved in the selection.
As an eco-friendly system, Morph is an ideal product for helping showcase these new ideas. We built a variety of plinths of differing shapes and sizes all in Natural Morph Bio and finished with oak stained reclaimed scaffold boards by Riz and Mica Make (rizandmicamake.co.uk), so as to create a neutral display platform for the various products on show.
We'll be back at Grand Designs Live 2024
MORPH Bricks have been amazing to work with. We are looking forward to exploring our next designs soon! Ellie Russell, Grand Designs Live
We are delighted to have been invited back to the larger London show in May 2024. We will be rebuilding the Sustainable Future Theatre and Kevin's Green Heroes and are already in discussion about future opportunities as the show takes a fresh look at their design.
It has been wonderful to partner with Grand Designs Live and Media 10 and we very much look forward to new partnerships in the future.
If you have an exhibition and need a creative and versatile product for your structures and displays,
get in touch with Morph and we are certain we can deliver on almost any design.
MORPH Bricks have been amazing to work with. From start to finish Harvey and Liz have both been a delight. Bringing my initial sketch to a finalised design has been so lovely to see. Harvey has even explored making us some bespoke coloured bricks and we are looking forward to exploring our next designs soon!
Ellie Russell, Grand Designs Live