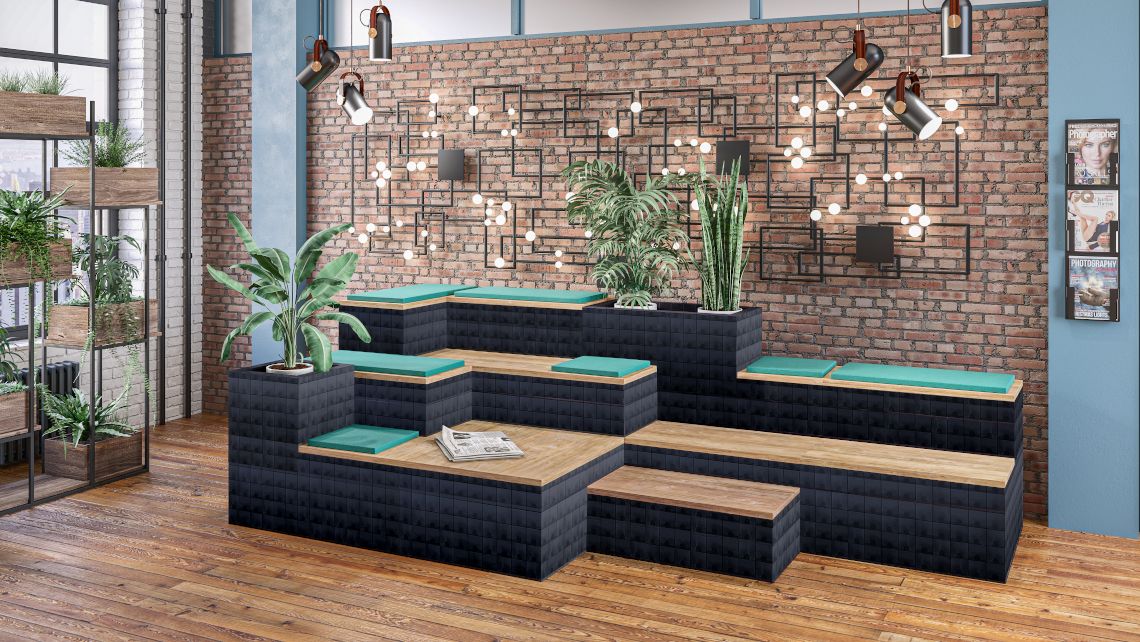 G-Morph products for fast reconfiguration
Schools and universities, businesses and event organisers frequently use flexible furniture to host one-off engagements, hold regular meetings/shows, create new environments or meet changing needs.
Often occupying a space that is otherwise used for day-to-day activities such as lessons, breakout areas or team meetings, the furniture they need will be specific to the event, be it auditorium style seating, occasional poser tables for special events, stages for talks and performances.
G-Morph is a giant version of our regular Morph Bricks
G-Morph is a giant version of our regular Morph Bricks with multiple uses in creating furniture options. Made from our standard Morph RE (100% recycled plastic), bricks are fused together in a more permanent state to create G-Morph blocks. These large blocks can be used for fast product builds whilst maintaining the flexibility for reconfiguration from one G-Morph product to another. The benefits include fixed stable manageable blocks, rapid builds and rebuilds, and 100% recyclability.
G-Morph can be used to build, use, reuse.
Ranges currently in the G-Morph family include Stax, Tierz and stages but the G-Morph blocks can also be used to create benches and tables of different sizes and layouts. Imagine the advantages of being able to change a dining area from breakout tables and benches to tiered seating and a stage, within minutes. And then changing those products to meeting tables or high tables in the time it would normally take to clear the room.
The options don't stop there, G-Morph offers endless possibilities. When not being used for any of the above purposes you can create your own products or simply store them by creating a thick G-Morph wall.
Morph Stax uses G-Morph blocks to build irregular breakout, meeting and waiting area layouts. Different top surfaces can be used to change the aesthetic to suit, and cushions can be added for seating areas, either with a non-slip base, or fixed. Planters have been a great addition to the range to bring some biophilia to the design.
Morph Tierz use the blocks to build tier seating. Again, different tops can be used and cushions can be added to change the aesthetic and help fit in with branding and interior design. 
G-Morph can also be used to create Morph Stages of different sizes and even heights. They can give incredible flexibility to a room where on occasion you may need to switch from high tiered seating to lowered tiered seating plus a stage, or any alternative configuration.
Morph Bricks can supply sustainable accessories for your design
The most common worksurfaces we have been using are the recycled scaffold tops as they have an aesthetic that works well with Morph RE and obvious environmental credentials. However we can create G-Morph blocks using all types of worksurfaces to meet your specific needs.
The G-Morph range has a number of component options available on 3D Warehouse
Several different G-Morph components exist, from standard single and double blocks and tops to low and quad blocks. We have also used planters to great effect and we can add oversized tops to G-Morph Top caps which allows the creation of table tops with an overhang.
To allow designers to build their own Stax, Tierz or stage products, the CAD modules for the G-Morph range can be found in the Stax collection on the 3D warehouse HERE.
100% recycled, 100% recyclable, circular solution
At a time when we need to keep our environments as flexible as possible, G-Morph supplies a 100% recycled and 100% recyclable flexible solution that aims to change the future of furniture, one block at a time. At end of life Morph Bricks will collect any unwanted product for free so that it can be recycled into new Morph Bricks, creating a truly circular economy.
If you would like more information about our G-Morph products or have a project where these products would be of use, please Contact us.