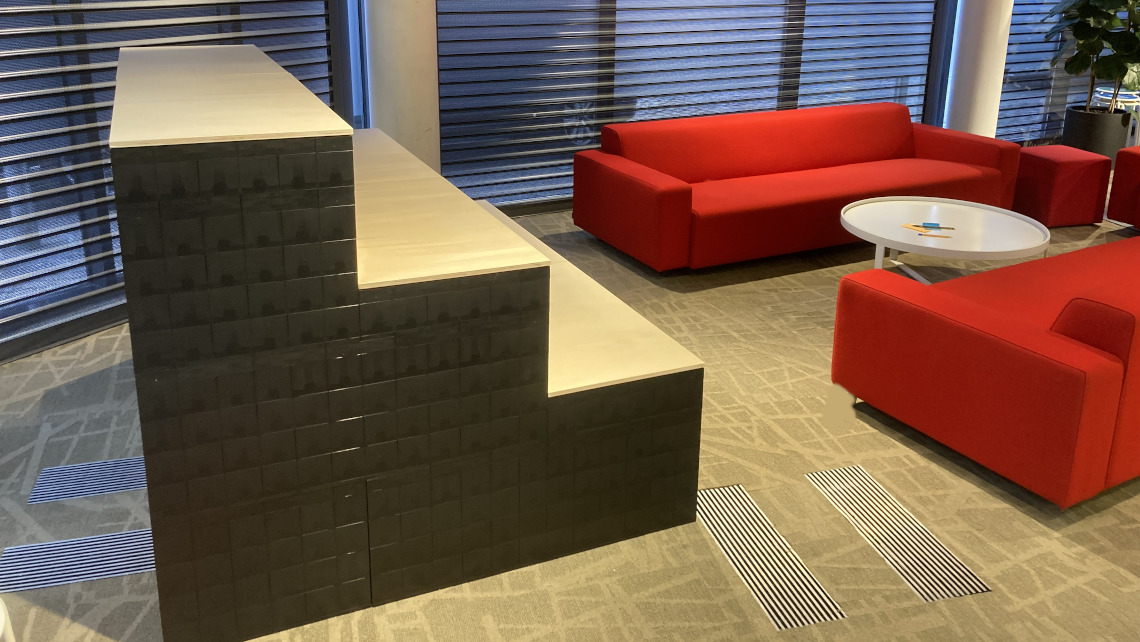 JKR
Like many companies in 2021, JKR were exploring how best to adjust their office space to suit hybrid working practices and bring their teams back to working together again.
Our Morph system offered flexible solutions allowing JKR to trial alternative uses and zones across different areas.
Open plan office spaces were separated using Morph Walls of differing sizes. Depending on requirements and dimensions for each area, we were able to adjust the heights and lengths of walls and strengthen free standing walls with increased depth to provide increased stability. A variety of acoustic panels added to the aesthetics of the areas, defining their different purposes and dampening sound travel between the zones.
To help create a breakout workspace we built a poseur height worktable with a large chunky double thickness ply top. Combined with some existing stools from the office this has proved to be a popular breakout workspace.
Giant Morph was used to create a modular tiered seating system, Morph Tierz. The smaller standard Morph bricks were used to create larger G Morph units which can be reconfigured much more quickly. We used 12 G Morph units and 6 G tops with a ply edge to create an easily moveable tiered seating system that can be reconfigured into other purposes such as stages, low bench stools, table bases etc.  
The Morph system has allowed JKR to trial agile work areas as staff return to the office without committing to long term solutions that may then be changed. Every Morph product has been built and installed onsite with no mess or impact to the fabric of the building, allowing JKR to minimise costs and disruption.
Morph has given us the flexibility we needed to trial new ways of working and create a safe space for our staff. We now know we can adapt and flex to whatever changes covid may bring next
- Lorna Boyd, Director of Operations JKR