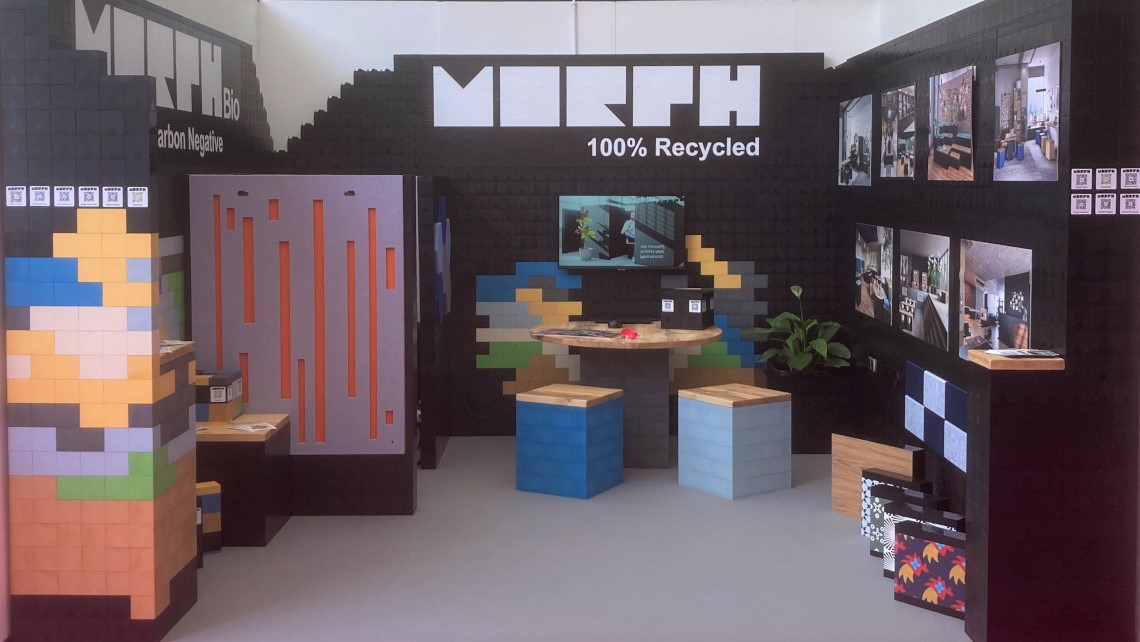 Fantastic response at Clerkenwell Design Week!
What a fantastic response from everyone who visited us at Clerkenwell Design Week!
It was non-stop with a constant stream of visitors coming to see our innovative modular system. We spoke to people from every walk of life including architects, designers, specifiers, exhibition suppliers and organisers, Universities and retail stores. The feedback was incredibly positive and we are now working through the enquiries we've had since the show.
Inspiring and exciting
We lost count of how many times people commented on how our product stood out as something new at Clerkenwell, they were inspired to see such a clever innovation based on such a simple design.
'It is wonderful to see a truly new innovation'
'I didn't realise the whole stand was built with Morph, that's fantastic!'
'I need to use this in my next project, it is brilliant'
'We could offer Morph walls as our sustainable options for exhibition stands'
It was also a pleasure to talk to upcoming designers and give them the inspiration to explore and use sustainable materials in their own designs and innovations.
Manufactured in the UK
What stood out during the three days was the high importance placed on UK manufacturing. Morph is manufactured in Sussex where we are based and our recycled plastic is supplied by a UK company. The raw material for Morph Bio comes from Sweden which we injection mould into bricks at our factory in Newhaven, East Sussex.
Bringing colour to Morph
Morph Bio drew a lot of interest, contacts we met at the show last year were really pleased to see how we'd responded to feedback and even though the colours we had on show were just our test colours, they were a fit for many company brands. 
The improved environmental properties of Bio was also a big draw and it was great to discuss the hot topic of defining sustainable and environmental products. Morph Bio uses a biocomposite material from Stora Enso in Sweden who explain that the product has a negative CO2 impact since carbon is captured and stored in the bioplastic and wood fibres of the material until it is released. And compared with fossil-based polymers, even when incinerated, less fossil CO2 will be released into the atmosphere. Bearing in mind that the Morph Bio bricks are robust and that our aim for every design is to be morphed into new products by reusing the same bricks, the investment will continue to have a positive impact on reducing waste and use of fossil fuels. Not only that, the material can be reproduced five times before the mechanical properties start to change. A very long life indeed with significant environmental benefits.
Read what is being shared about Morph in two recent articles: Highlights from Clerkenwell Design Week by Rap Interiors and Hidden Stories from Clerkenwell Design Week by James Wormald, Architonic
We are working on a number of new enquiries for a range of Morph designs. If you have a project and would like to see how Morph can be used to deliver the brief, get in touch with us today and we can discuss your options.