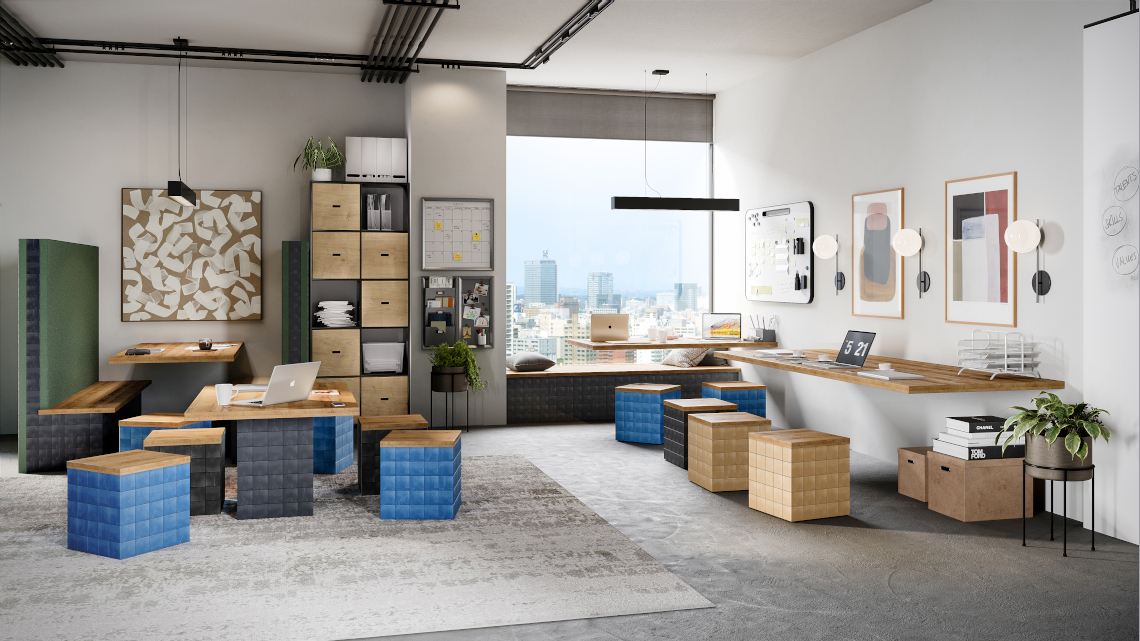 New material and increased environmental qualities – meet Morph Bio!
Morph Bio, our new carbon negative range made from biocomposite material not only furthers our sustainability values, but also brings colour to our range for the first time. Read on to find out more about this exciting new development.
From reducing plastic waste to climate positive impact
Adding to our already 100% recycled & recyclable Morph product, this year we are thrilled to unveil Morph Bio, our new carbon-negative range made from biocomposite material.
Biocomposites have a negative CO2 (carbon dioxide) impact by capturing and storing carbon in the bioplastic and wood fibres of the material. This has enormous environmental benefits as it removes CO2 from the atmosphere and plays a part in countering greenhouse emissions.
We are excited to be taking this huge step to further our climate positive business philosophy.
Design innovation enables far reaching uses
Morph Bio consists of the same four components with unique connection system as our original Morph bricks, delivering our full range of designs, from breakout furniture to tiered seating, desks to meeting bays and walls to rooms.
The genius is that every product can be taken apart and the bricks reused time and again. So if your occasional seating needs to morph into larger seating options, pull the bricks apart and build a new design, for example benches or booths, without waste, saving the environment and your pocket!
From black to colour
Morph is made from 100% recycled plastic which is currently available in timeless black and now Morph Bio brings colour to the range for the first time.
Clients will have a selection of colour finishes to choose from in the Morph Bio range. We have already tested natural light wood finish, grey, blues, yellow, green and black but the options are wide-ranging.
This exciting new product can also include additional UV protection qualities.
Why not contact us to discuss your preferred colours and project needs.
Come and meet us at Clerkenwell Design Week
We cannot wait to reveal this ground-breaking step in the Morph journey. Come and see us in Project at Stand PA5 where we'll be showcasing Morph Walls, Morph Bio, our café tables and stools and Morph Calling.
You'll have a chance to see and handle both Morph and Morph Bio bricks up close and also explore the numerous options we offer for cladding, acoustic treatments, office branding etc
You can sign up and join us for free here.