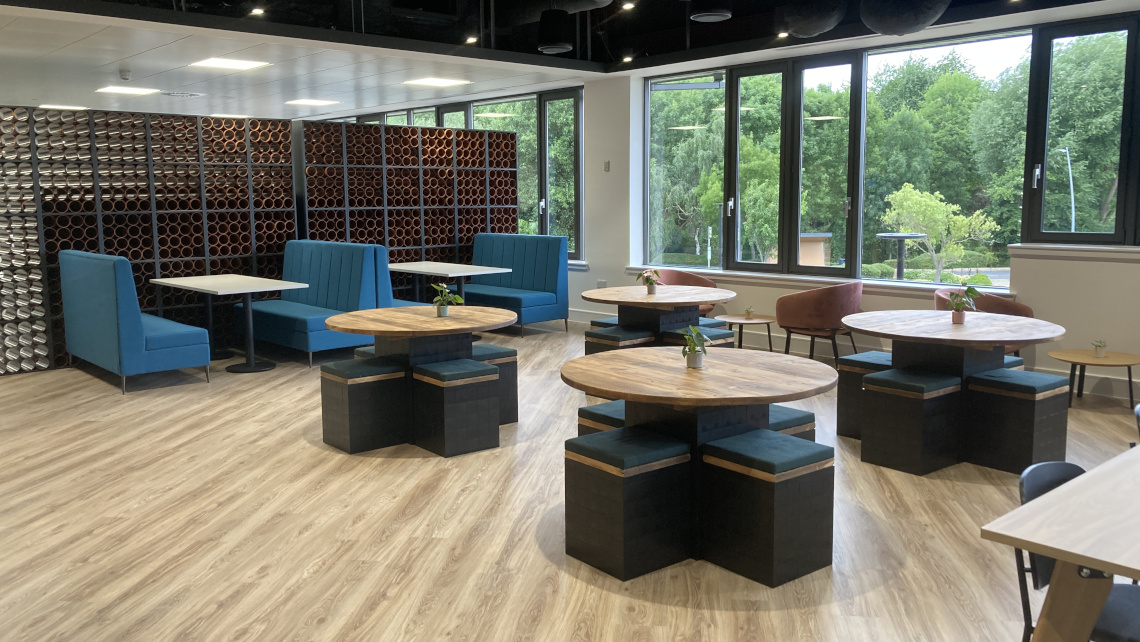 New BBA offices by Oktra
We were approached by Oktra earlier this year to provide options for the new BBA (British Board of Agrement) offices.
About BBA
Founded in 1966, BBA has occupied office space on BRE's Watford Campus for over 50 years and last month moved to Croxley Park, a new inspirational green business community near Watford.
The Brief
BBA were keen to explore furniture options from a wide circle including smaller manufacturers and placed sustainability high on the agenda. Morph, new to the market and Recycled Product of the Year 2021, met the credentials.
A large open plan office, Oktra's design included a large presentation wall across the centre of the space with work, breakout and café areas on either side. We worked through a number of options with the Oktra team and settled on using Morph for the café furniture and the presentation wall.
The Process
We designed, built and supplied a sample Morph low stool finished using reclaimed scaffold boards with oak stain and cushion. This was tested and approved by staff at BBA. The café tables were built with a pedestal block base and matching oak stained reclaimed scaffold boards for the circular table tops (1200mm diameter).
Oktra's designers had drawn up the bespoke presentation wall. A freestanding unit with integrated shelving and open back, the wall replaces the need for fixed walls and preserves a sense of collaboration across the floor, whilst creating an element of privacy and noise flow reduction.
This sizeable unit with a length of 5m and 2.3m tall required a bespoke design and we explored a number of different options, ensuring the unit not only met the vision but also retained the robust stability required for such a tall unit. The test build allowed us the check the stability and design and we were able to reduce the depth from 675mm to 600mm by using connector rivets to lock certain blocks together for added security. The shelf support fins were pre-built off-site ensuring the brackets were in the correct position for the pre-cut oak stained reclaimed scaffold board shelves. The whole unit was assembled by one person in less than a day with minimal disruption to the rest of the trades on site.
Morph offers total flexibility 
Should BBA wish to change their layouts, perhaps have bench seats in place of stools, reform the shelving unit from one large piece to three individual pieces, the products can be taken apart and rebuilt to the new specifications, providing BBA with a long-term and adaptable investment.
The Morph presentation wall offers a stylish centrepiece for the new offices and alongside the café tables
and stools, Morph provides a sustainable story to tell.
Read more about Morph and sustainability.
Morph can be used to build numerous products, both bespoke and standard, including meeting bays, tiered seating, walls, room dividers. Every Morph product can be completed with a variety of finishes including reclaimed table/worktops, upholstered cushions, acoustic tiles and panels, vinyl finishes, and presentation accessories. These additions not only add to the aesthetics to create a welcoming environment for staff and visiting clients but can meet specific needs and showcase company branding.